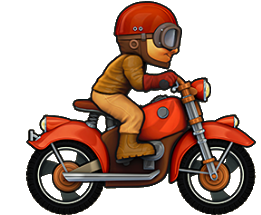 Win 5 games on multiplayer.
Like Bike Race Page
Like Top Free Games Page
OR
Get 60 coins in singleplayer
---
Summary
The Retro Bike is the Second bike you will unlock in this game, and is very easy to achieve. This bike, along with other Original Bikes, is the same speed as the Default bike. Therefore this bike is used for showing ones rank in bike race, and therefore has no strategical/speed differences, than the Default bike.
---
Strategy
Since this is a breakable bike, you need to avoid crashing.
---
Appearance
Helmet

The helmet is brown-orange with goggles similar to a jet flier, and the rubber part is brown.

Clothing

The rider wears a brown suit with brown boots and khaki pants.

Bike

The bike is orange with a little brown too. The wheels are black and the middle is tan.
---
Trivia