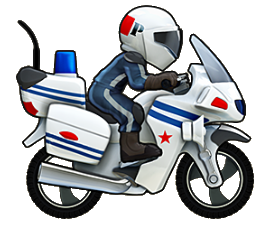 Play with 5 FB friends OR Get 360 coins in singleplayer
---
Summary
The Police Bike is the seventh bike unlocked in the shop.
---
Strategy
The Police Bike doesn't have any abilities, as it is kind of a remake of the Default Bike, but bigger, and usually cannot help you. Keep your eyes on the wheels so it won't crash.
Since this bike is big and tall, it is not recommended to use the Police Bike on tracks with low tops.
Looks
The Police Bike has looks similar to a sport motorcycle; e.g. The Kawasaki Ninja.
The rider resembles a motorcycle policeman, wearing a white full-face helmet and bodysuit and with a P around the back side.
---
Trivia
The Police Bike is the second bike that requests you to play with Facebook friends to unlock it (5FB Friends).