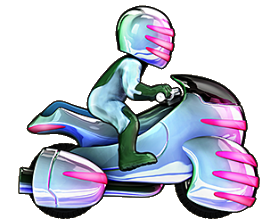 Create a game with a FB friend
Create a game with a random user
Create a game sending a SMS
Create a game sending an Email
---
Summary
The High Tech Bike is the sixth bike that you unlock in the shop.
---
Strategy
This bike is good for going wheelie, as playing with one wheel uses the exact amount of power for 2 Wheels of

a different Bike. Practice with this bike and you may able to climb some hard places, do shortcuts, and get a best time record etc.
On the Bike Race Card game, this Bike used 0 of 3 gas and went 40 km/h.
---
Looks
The High Tech Bike features a chrome body with pods around the front and rear tires. Strips of pink light are included on said pods, below the tinted windshield, and near the brake light. The rider is wearing a chrome jumpsuit with dark green boots, gloves, and back. The rider's helmet is completely chrome with three strips of pink light as a visor.
In Bike Race League, the Bike looks exactly the same, except the windshield is silver instead of black.
---
Trivia
If the "best time ghost" setting is enabled, and a new best time is set with the High Tech Bike, the ghost bike's tires are visible through the pods that are covering the tires.
On Apple Devices you have to Turn push Notifications On (go to settings>notifications).
This bike is the only bike that only requires you to create games to unlock it.
This is the only bike with another bike with the same name.