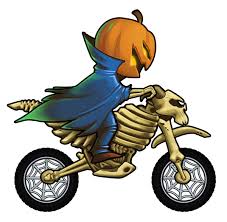 ---
Summary
The Halloween Bike can be unlocked any time of the year, but you can only see the requirements in the game in October and Black Friday.
You need 24 Stars in Halloween Levels, You also need to Win 10 Consecutive Multiplayer Races.
---
Strategy
This the same speed as the Default Bike, so be cautious when using it.
---
Looks
---
Trivia
He's rarely to be seen in Multiplayer.
He's also difficult to be unlocked because Halloween Levels are hard to beginner players, especially Halloween 7 and Halloween 8, Also that he request you to Win 10 Consecutive Races, which it means you need to beat the players in multiplayer 10 times in a row without losing.
This bike is not categorized by stars, but if it was, it would probably be a 1-star bike since it is the same as the Default bike and is hard to get.