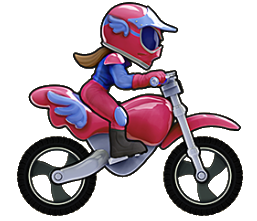 Get 12 stars
Do a back flip and get 3 stars
---
Summary
The Girl Bike is the second bike you unlock in bike race.
It has the same speed as the Default Bike.
---
Strategy
Like many other Bikes, the Girl Bike is destroyed when anything other than its wheels touch the ground. So be cautious when using it. The girl bike has one ablitity, and that she can fly somehow, this is NOT useful for levels that you need to slow down to get into other parts, so only useful for levels that don't request you to slow down like "Hold down levels".
---
Looks
Helmet

Dark pink motocross-style helmet with small, blue wings on the side and a blue sun visor.​

Clothing

Dark pink leggings with blue knee pads, blue shirt with pink shoulder pads, pink gloves, and brown/ black boots.​

Bike

Dark pink body with blue wings on the rear, gray frame, and black tires.
---
Trivia
The Girl Bike is one of three bikes with a female rider.
This Bike's requirements used to be swapped with the Retro Bike's requirements.