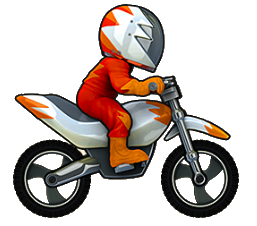 Race 100% wheely and get 3 stars
Do 2 front flips and get 3 stars
Do 4 back flips and get 3 stars
---
Summary
The Acrobatic Bike is the third bike that you unlock in the shop.
---
Strategy[1]
The Acrobatic Bike is Acrobatic. That means it rotates faster than any other bike in the game. In some levels, you are able to use this to your advantage.
Since this is a breakable bike, you need to avoid crashing
This bike is included in the Original bikes
This bike, along with other Original Bikes, is the same speed as the Default bike.
---
Looks
---
Trivia
Even with its fast rotation speed, it still suffers from being breakable and not being able to use its ability to the fullest.
The Acrobatic Bike is easy to unlock on Desert level 1.
This bike is the first classic bike with an ability.
This Bike has the same Ability as the Acrobat, which can be obtained in Tournaments.